Le Fondatori/the Founders
Hilary Binder's musical career began when she was six years old learning to play violin and piano. She began her musical career at 6, studying classical violin and piano. Frustrated with the confines of classical music, she began to teach herself drumming at 15 and formed her first punk group, Death Before School, in 1981. After moving to San Francisco, she eventually hooked up with Christopher and Tommy and continued drumming. With the formation of SABOT came an opportunity to expand on the traditional drumming styles of her past groups. Hilary's musical influences started with her classical musical training, which continues to affect her ideas about composition. For ten years she almost exclusively listened to punk and hardcore music, though she is always sneaking in private time with soul, go-go and hip hop. Hilary Binder was the founder of, and for twenty years an administrator at the international cultural center CESTA. Currently she is the drummer inSABOT  and  RIOT, the lead singer of POLEMICA, and a member of the vocal quartet KAČKALA. She is also the founder and administrator at the international cultural laboratory INVIZIN.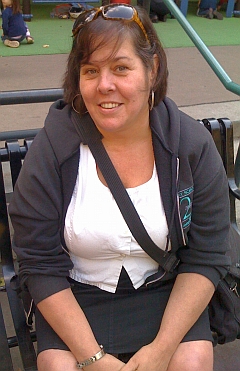 Debbie Gordon, B.A., J.D., M.Ed. began working in the music industry in the early 1980's, starting at Alternative Tentacles, an independent record company owned by the seminal punk rock band the Dead Kennedys.  She then worked for Warner Bros. Records for a few years doing alternative marketing.  She left there to start her own management company managing such bands as Sister Double Happiness (who opened for Nirvana on their "Nevermind" tour), Babes In Toyland, and NYC's Cop Shoot Cop, etc. She then became a tour manager, touring with such acts as Natalie Merchant, the Lemon Heads, the Breeders and her last tour was with David Byrne. She attended Law School, graduating in 2003 and licensed in the State of New York in early 2004.  After many years as a lawyer committed to human rights causes, she went back to school to earn her Masters of Education, and currently teaches underprivileged teens in New York.
Lo Staff / the Staff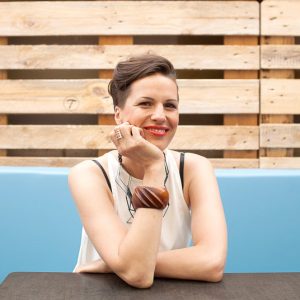 Jessica Serran is an International Artist and the Leader of the Becoming Artist Movement. As a Visual Artist she uses drawing and painting to touch the forgotten and hidden parts of Self. When not making her own art she helps other Visual Artists who struggle with discovering their Calling to become Leaders of an International Creative Movement through the Power of Community.
Her ability to see the genius in others and give them permission to step into it, combined with a seamless blend of intuition and logic are the force that is ushering more authentic, full-bodied creativity into the world. Lit up by marketing as much as art making, her coaching programs are changing the limiting beliefs and starving artist paradigms that hold so many artists back.
Born in Ontario, Canada, she holds an MA in Transformative Art from John F Kennedy University in Berkeley, CA and a BFA in Illustration from the College for Creative Studies in Detroit, MI. Recently named a Leader of the New Cool in Prague, she has exhibited and published her work in the Czech Republic, Slovakia and across North America; been featured in Art 21, The Prague Post, The San Francisco Chronicle, Detroit MetroTimes, Holistic Fashionista Magazine and was a 2014 Creative Mornings guest speaker on the topic of Color.